MELBOURNE, Fla., August 17, 2023 — After the recent announcement that Brandon Harvath will serve as the new President and Chief Executive Officer for Christian Care Ministry (CCM), the faith-based health care sharing ministry behind the popular Medi-Share program, the organization received an outpouring of support from its network of ministry partners.
"I am deeply honored to accept the position of CEO," said Harvath. "Christian Care Ministry, through its Medi-Share programs, continues to be an innovative beacon for affordable, faith-based healthcare solutions. I am excited to lead this extraordinary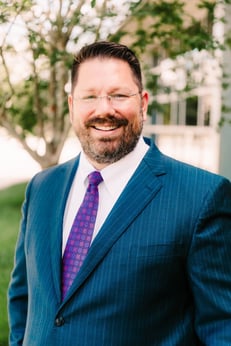 team as we build on our mission and continue to serve our community."
The following are affirmations for this leadership appointment:

"We are filled with immense joy and anticipation as we witness the appointment of Mr. Brandon Harvath to the esteemed position of CEO for Christian Care Ministry. His character and commitment to the Gospel shines through in all that he does. We are extremely grateful for the deep-seated partnership CCM shares with FCA Brevard, one that is rooted in our mutual love for Christ and His teachings."

Dan Carter, Multi-Area Director for Fellowship of Christian Athletes (FCA)
"It is rare to find a leader who understands the complexities of our health system, has a great head for business and is dedicated to applying Biblical principles in a way that directs the glory to God. I appreciate Brandon's relational style, his willingness to stretch the faith of those around him, and his commitment to 'ministry first' in every aspect of CCM. "Brandon will bring a fresh vision for CCM and expand its national influence as he practicalizes the kingdom of God through expanding access to care in ways that strengthen the church and are fiscally responsible. It is so important to have a leader who recognizes the greatness and majesty of the God we serve, and who sees his work as a calling to advance Christ's kingdom. We congratulate the board on its selection of Brandon Harvath as CCM's new CEO and pray for God to lead him in the wisdom and power of the Holy Spirit."
Steve Noblett, Executive Director of Christian Community Health Fellowship (CCHF)
"On behalf of CarePortal and The Global Orphan Project team, we congratulate Brandon and CCM on this exciting news! Brandon's business acumen, servant leadership and heart for ministry uniquely position him to have a powerful impact for the Kingdom. We're confident God will continue to use Brandon and CCM to advance and grow the concept of care-sharing within the U.S. and around the world."
Joe Knittig, CEO of The Global Orphan Project
About Brandon Harvath
Since joining the Christian Care Ministry team, Harvath has consistently exhibited a profound commitment to enhancing the services provided through Medi-Share. His appointment by the Board of Directors is a testament to his strategic vision, operational prowess, and unwavering commitment to the organization's vision to transform society through the biblical model of sharing. Having previously served as Chief Operating Officer and interim CEO, Harvath's deep involvement within the ministry makes his appointment an exciting development for the future of CCM.
About Christian Care Ministry/Medi-Share
Christian Care Ministry (CCM), a not-for-profit 501(c)(3) organization, based in Melbourne, FL, operates the Medi-Share program, a Christian health care sharing organization that provides an affordable alternative to health insurance for faith-based consumers. Now in its 30th year of sharing, Medi-Share serves nearly 400,000 members across America and has earned accreditation from the Independent Healthcare Sharing Accreditation Board. For more information about Christian Care Ministry, visit https://mychristiancare.org/press.
###