The Medi-Share-sponsored NASCAR prayer channel on Pray.com recently launched as a way to engage NASCAR and its fans in prayer.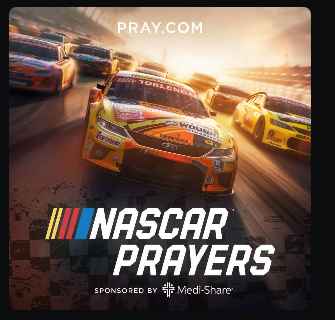 MELBOURNE, Fla. —-Christian Care Ministry/Medi-Share, the nation's leading health care sharing ministry, has linked arms with Pray.com to launch an exciting new channel on its app called NASCAR Prayers. This powerful series of curated prayers is specifically tailored for NASCAR teams and fans to uplift this racing community through the power of prayer.
Focusing on heart-felt prayer one driver at a time, this platform is a great way for teams and fans to lift NASCAR athletes up with prayers for protection and strength. Fueled by Medi-Share, this prayer channel becomes a means to show solidarity with and provide encouragement to this specific community.
Pray.com is the renowned #1 app for faith-based audio content. Notably, their Medi-Share sponsored "Bible in a Year with Jack Graham" podcast, an immersive audio experience bringing the Bible to life, has garnered more than 20 million downloads and is ranked #1 on Spotify in the Religion category. According to Evelio Silvera, VP of Communications for Christian Care Ministry, "Pray.com offers a wealth of meaningful content for those seeking a guided prayer experience and "NASCAR Prayers" is a remarkable addition to its lineup, and we are thrilled about its launch."
"We are honored to partner with Medi-Share in bringing these NASCAR Prayers to our Pray.com family, many of whom we know are huge racing fans. We know they pray regularly for the safety and success of their favorite drivers, and we are excited about helping fuel and empower those prayers, inviting millions more to join us and help grow their own prayer lives." - Mathew Potter, Pray.com co-founder.
"Christian Care Ministry is privileged to partner with Pray.com as they work to fulfill the Great Commission through their digital platform," explained Mr. Silvera.
About Christian Care Ministry/Medi-Share
Christian Care Ministry (CCM), a not-for-profit 501(c)(3) organization, based in Melbourne, FL, operates the Medi-Share program, a Christian health care sharing organization that provides an affordable alternative to health insurance for faith-based consumers. Entering its 30 https://mychristiancare.org/press.
About Pray.com
Pray.com helps people make prayer a priority in their life. Founded in 2016 with a mission to grow faith, cultivate community, and leave a legacy of helping others, Pray.com is the world's No. 1 app for daily prayer and faith-based audio content. Reaching more than 15 million people worldwide through its mobile app and website, it is the easiest way to incorporate prayer into your daily life. Pray.com provides encouragement and inspiration through daily devotionals, Pastor podcasts, and Bedtime Bible Stories. Pray.com's founders are Steve Gatena, Mike Lynn, Ryan Beck, and Matthew Potter. See https://alarryross.com/pray-com for