Teen Mania co-founder Ron Luce joined Christian Care Ministry employees Wednesday morning for CCM's Friends Sharing Friends program.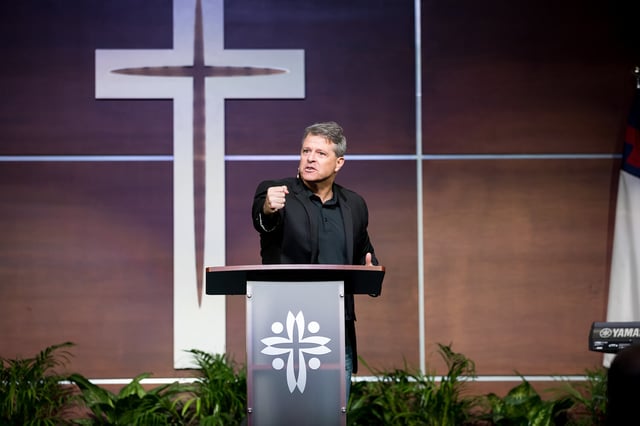 Ron talked briefly about his troubled childhood, what led him to Christ, a major trial the family faced in 2012, and about his vision and plan for an international youth ministry. He then taught on the subject of "Sailing into the Hurricane Called Culture."
Luce and his wife have been Medi-Share members for about a year now. "We felt like it was the rapture when we discovered it and thought, 'Oh my goodness, this is way better than anything else!'" Ron said.
"It was extraordinarily easy to sign up. What I like is this is ministry; people praying for each other. I really appreciate the intentionality about creating a community/family that connects people and getting an email that says who my share helped."
When asked later about his international ministry and creating a global event in 2019, Ron had this to say:
"Most countries are not reaching the next generation, so it's really a global epidemic. The event – Jesus Global Youth Day – is a moment, but it's really about providing focus and while we have that focus, let's give people some best practices so they can take them back to their own nations.
"You have to be intentional (about reaching youth). Is the average age of your church's attendees getting younger every year? A church that really gets this is one over in Singapore that has over 3,500 attendees and the average age is 21."
Luce will be partnering with several organizations, pastors, ad churches across the globe in creating this event with the intention of igniting a movement over a 10-year period (2020-30) of revival.
Visit our Facebook Live link to listen to Ron speak with CCM CEO/President Ted Squires and as he brings a message of hope and encouragement when facing the winds of culture.