For our employee spotlight, Christian Care Ministry's Zach Taylor shares his story.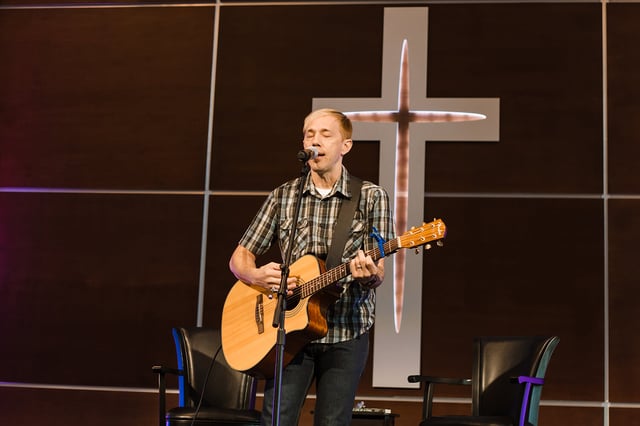 "Let's go back to the beginning.
My mother died in a car accident when I was almost two years old. She was only 18.
After my mother's untimely death, my grandparents took care of me. Upon my grandfather's passing, I went to live with my father.
I had a father who believed in tough love, so when he found an illegal substance in my bedroom, he had me arrested in order to teach me the consequences of my actions. I was 15 at that time. After being sent to and running away from a halfway house, getting caught up in the system and, being thrown into a psychiatric facility to appease the court, finally I turned 18.
At the age of 23, determined to leave my troubled childhood behind me, I set out for a fresh start in Atlanta, Ga. Three years later, I, moved to Clearwater, FL with my best friend.
Between the years of 1997 and 2002, I led a successful regional band. We performed at over 2,000 shows and shared the stage with artists like John Mayer, Matchbox 20, The Indigo Girls, Dido, Dave Matthews Band, Vertical Horizon, and many others.
During this period of my life, I was introduced to a producer named Ben Fowler. Recognizing my music as positive and spiritual, Ben suggested that I become a Christian artist. I quickly dismissed the idea.
Life then decided to throw some heavy challenges my way. As a result, loneliness and depression slowly took over my life. Not knowing how to properly cope, I turned to drugs to ease my suffering.
Soon after, when I witnessed my best friend commit suicide, my life spiraled even further out of control. I felt completely alone. I felt that I had no one to turn to. I gave up on myself and on music.
Was this God's plan for my life? I knew, deep down, that it couldn't be.
In 2008, I went to visit an old friend who happened to be giving drum lessons at a small church. At that point in my life, I was so starved for anything positive that I decided to attend a prayer meeting and service the very next day. Little did I know just how important that day would be.
One week later, I was a new person. I had made the decision to give my life to Christ. I experienced something so powerful, so mind-altering, that I never looked back at my old lifestyle. I found the piece of my life that had been missing all along. The sickness in my life that I had been desperately trying to cure had finally subsided – I had been healed by Christ.
I started writing music again, but this time I was writing music that glorified God.
In 2009, I met my wife and became the worship leader at Next Level Church in Tarpon Springs, Fla. I went on to lead worship there for two years and in 2011, I was ordained as a minister by Dr. Peter Wyns (Derek Prince's grandson) and Christians for Messiah Ministries.
I was blessed with enough success to be able to travel to Nashville, Tenn., and recorded an album with none other than Ben Fowler, the same producer who first suggested I become a Christian artist.
The message in my songs comes from personal experience. It comes from a place of being completely lost, to being found and finding my true purpose through Him – from a place of brokenness and despair, to a place of purpose and enlightenment. I believe God has called me to glorify Him through music and the way I live my life and my hope is to be as obedient to that call as possible.
I toured the Eastern US as a solo artist and focused on ministering to Celebrate Recovery groups for a few years. I also served as a worship leader at the Chapel.cc in Tarpon Springs during this time. When I learned that I was going to be a father, I went back to school to find a more stable career to provide for my family.
After moving to Melbourne, Fla. from Clearwater for a job at Harris, I was recruited to work as Director of IT at Calvary Chapel Melbourne. Now, I am currently the Senior System Administrator at Christian Care Ministry. I have a bachelor's degree in IT, several professional-level certifications, and three beautiful children.
God continues to reveal his redemptive power in my life and I continue to be amazed at what is possible when you surrender your life to Him."
For more on Zach and his music, check out these two videos on YouTube:
What questions do you have for Zach? Post them in the comments below.