Our employee spotlight for the month is Ursula Norris who is celebrating one year with Christian Care Ministry this month.
Ursula started as the contracts administrator for CCM, and then was promoted to Director of Administration and Logistics in March. She is still involved with strategic contracts and partnerships, but also oversees security, fulfillment, and facilities.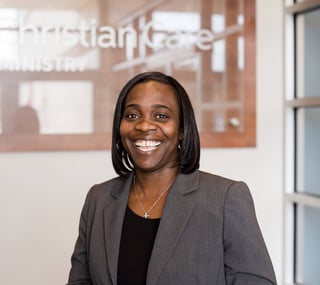 "When it comes to contracts administration, I have the opportunity to serve every department in the ministry," said Norris.
"I approach work as the continuation of my ministry that I'm called to do by God," she added. "I'm an ordained minister. Everything I do I try to handle it as though working for the Lord. I try to have all my interactions reflect that.
"Sometimes, in the contract world, things can be black and white, and rigid from a legal aspect. I try to incorporate face-to-face interaction and approach contracts from a Kingdom aspect – what's the best representation for the ministry? How can we accomplish a business goal and still be Kingdom-minded?"
Ursula has been a tremendous blessing to the ministry since arriving, and she considers it a blessing to be here.
"Last July, as my dad was transitioning in his final days, I saw the hand of God in how he brought me here (to CCM). I was working at a company in Cape Canaveral, praying for an opportunity to open up in Melbourne. I wanted to be closer to my parents and God showed His favor in my situation.
"It was the first time the ministry had posted that particular job. I've always wanted to apply here, but they never had a position I could apply for. I interviewed the week my dad was transitioning. I can see God's faithfulness because I needed to be closer to my mom. It was one of the darkest times, but God showed how caring He is in giving the desires of your heart. The way in which He allowed it all to fall into place, I knew it was His will. It was the answer to my prayers.
"I wanted to work somewhere to be who God called me to be and to use my skills. All my values align with what we do here at CCM and it's truly a blessing. My kids think it's pretty cool too," she said with a smile.
Ursula and her husband of 19 years, Eric, have two daughters: Jadasia (17), a serious senior as she calls her, and Kiara (12), a silly seventh grader. Ursula has lived in Melbourne since 1997 when she came to play basketball at Florida Tech.
After her playing career, she wound up assisting her head coach, John Reynolds, on the bench for a few years. Ursula also loves riding her bike, walking, and fishing.