Our member spotlight for April is on Ian and Angie Hoffman who live in Kansas City with their three kids.
The Hoffmans have been Medi-Share members since February of 2016.
"We had been EXTREMELY disappointed by mainstream insurance providers who were difficult to get a hold of, wishy-washy in fulfilling covered expenses, and referred me to other companies who were also challenging to work with," explained Angie.
"And for this tear-inducing, poor level of service, we were paying something like $1,500 per month for our family of four (at the time).
"At one point, my husband cut back his hours to support me through postpartum depression. Around the same time, a friend asked her Facebook network about cost-sharing ministries and several people had great feedback. I was quite intrigued by the concept!"
The Hoffmans did their research and eventually zeroed in on Medi-Share.
"It felt like a big risk when we initially started," Angie confessed. "I wondered if we were going to be in a world of hurt if we had any serious needs.
"Just weeks after signing up for Medi-Share, we had a surprise pregnancy! Also surprisingly, my water broke eight weeks early and I was in the hospital for four days before having an emergency c-section.
"While I was there, I called Medi-Share to alert them of the bills that would be coming in, and was told that someone would be calling back to talk to me about it. I thought it was going to be like my previous experience with insurance companies, with them lecturing me about all of the things that wouldn't be covered.
"Instead, I was connected with Ariel who was so wonderful and supportive, and interested in what was going on in my whole life! Seriously, I think she was being paid just to keep me company over the phone. When I asked about limits on my hospital stay, she encouraged me just to trust my medical professionals and stay as long as they deemed necessary… WOW!
"Our new baby stayed in the NICU for a month and we racked up over $200,000 in bills. Our responsibility?
$35!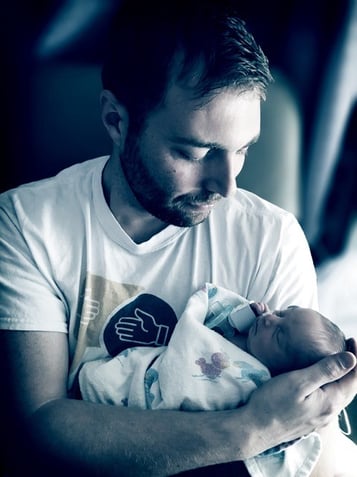 "I'll never forget the credit union statement with 13 pages of transfers into my account, each from individual families like ours, until it totaled $100,000+. Then, it dropped back down to zero when Medi-Share sent the check to the hospital to satisfy my medical expenses. What a cool thing!"
Needless to say, life with three little ones can be hectic and expensive. Thankfully, the Hoffmans discovered ways to supplement Ian's income, all the while saving hundreds every month on their healthcare costs.
"While staying at home with our three kids (now 1, 2, and 4), I sell items online," said Angie. "Ian and I discovered early on in our marriage that we love garage-saling together. Now we have expanded that 'love of the hunt' to estate sales and liquidations as well.
"It has been a great way to spend time together and supplement our income. You can find us on Amazon, eBay, or Facebook under the name 'KC Family Selling.'"