As I approach the one year mark as the CEO of Christian Care Ministry (CCM), I am continually humbled by how this ministry continues to expand its impact in the Kingdom of God. At the heart of CCM's mission is a strong sense of community and I believe this Christian community is at its strongest when we join together to support one another through prayer, giving, and encouragement.
Over the years, we have seen Christians across our nation support one another's medical needs through the Medi-Share program. Today, more than 300k members depend on and support one another through this healthcare sharing ministry. In fact, nearly 6k new members joined last month alone, our largest August on record.
Since 1993, our membership has shared or discounted an astonishing $2 billion in medical bills. That number is staggering. What a financial blessing for the Christian community! As our Kingdom impact continues to grow, the opportunities we have to impact it expand as well.
We recently started an initiative to increase awareness throughout the Christian community with a program called "Friends Sharing Friends." Each week, renowned Christian authors, speakers, and artists are joining together as friends of the ministry to help spread the Message. These are personal relationships that we have built over the years and they are as passionate about this community as we are.
We also showcase them on Facebook Live and mychristiancare.org/tv, providing the opportunity for our brothers and sisters in Christ all over the world to experience the inspiration and insight of these leaders. In turn, they are sharing us with their friends, audiences, and connections to help advance our cause.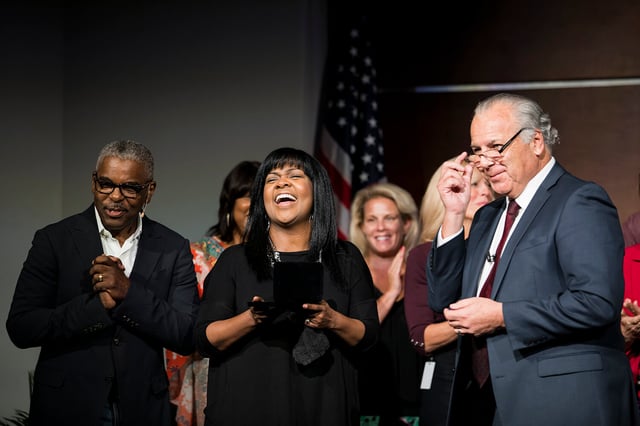 A recent highlight of this program was 10-time Grammy award-winning gospel artist, CeCe Winans. Not only did she minister to us in music, but during her "Fall In Love" tour she shared the message of Medi-Share with her gospel music fans across the nation.
I was touched by the response as we heard from existing and prospective Medi-Share members at her concerts. Many new members have joined as a result of this outreach and our community is better for it.
I am also overwhelmed by the support from so many pastors and ministers who have volunteered their time to minister to our employees and members each week through this program. What a blessing to see the faith community working hand-in-hand to advance Kingdom causes.
"What is the driving force behind the growth and success of CCM?" There are three answers, in my opinion. First, God has truly blessed this ministry in so many ways. Second, the faithfulness of Medi-Share members who are passionate about supporting their fellow brother or sister's needs as they relate to healthcare. Third, the more than 500 faithful CCM employees who view their work not just as a job, but as a ministry; an opportunity to represent Christ to their coworkers and the Medi-Share members they serve. I am sincerely humbled and honored to be a part of this team.
Finally, I want to take a minute to let you, our members, know how very much I appreciate your commitment to each other and to the privilege that is healthcare sharing. This ministry isn't about any one individual or leader. It's a movement of like-minded Christians who are on board with helping, supporting, serving, and praying for each other.
Collectively, we are a strong, vibrant community. With God's help "all things are possible." (Matthew 19:26 ESV) Let's expand our horizons and see where God wants to take us next. If we remain a humble and willing vessel, God will continue to use this ministry to bless His Kingdom.
Blessings!
Ted Squires
CEO, Christian Care Ministry