Whether we realize it or not, we all have a platform for sharing the Gospel. For some, it may be within our families. For some, it's in your communities, your workplace, etc. The possibilities are endless on where God can take His message (everywhere) and who He can use (anyone).
For Lee Haney, a simple prayer at the age of 17 started the process of what would become a world-wide ministry.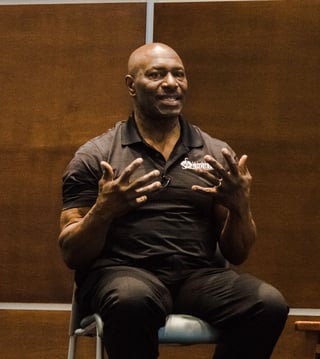 Haney became the first eight-time consecutive World Body Building Champion, holding the Mr. Olympia title from 1984-91. For more than 30 years, he has trained and consulted world-class athletes and celebrities, and nurtured the platform God gave him.


"I share the Gospel of Jesus Christ where He has placed me," said Haney, who was recently invited to speak to employees at Christian Care Ministry.


In addition to spreading the Word, Haney educates anyone and everyone on proper nutrition and exercise.


"Your wealth is connected to your health. You can't serve if you're sick. We must be good stewards of the bodies God gave us - He has commanded us to do so," Haney encouraged.


For more information on CCM's Health and Wellness program options and incentive:



To learn more about Lee Haney and his message of health and Jesus Christ, visit his website at https://leehaney.com/